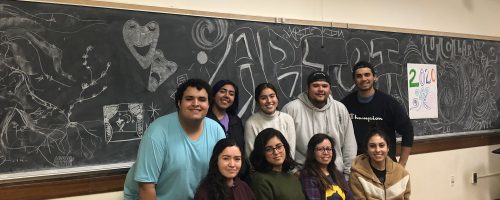 2019-2020 Arts In Cohort: Alexis Sanchez, Andres Sanchez, Bianca Barraza, Diana Castro, Karla Balbino, Norma Hernandez, Roberto Reyes, Saori Borrayo and Stephen Bush.
The Arts Initiative (Arts IN) Program is specifically designed for AAP third- and fourth- year students who have an arts practice, a passion for the arts, and the desire to engage in interdisciplinary research within the Arts, Humanities, Social Sciences, and Sciences. Students who are interested in pursuing a graduate degree in the arts are highly encouraged to apply. Arts IN Scholars will conduct a research project with the guidance of a faculty member and a graduate student adviser.
Examples of research of past Arts In scholars focused on the following: performing arts, street arts (graffiti, contemporary/historical muralisms), sculpture, fine arts, radical museum curation, funding for the arts in public education, art therapy, arts in the sciences, creative writing, dance, digital art, music, and gentrification.
Arts IN Scholars will be:
Exposed to research tools and mentors that help conceptualize how arts can be integrated into different fields. The goal of this process is for Arts IN scholars to clarify their own vision and development as a scholar within a social justice, pedagogical practice, and integration between multiple fields.
Given space to rigorously reflect on their art practice and/or passion for the arts and their contribution to society.
Trained to present their research to broad audience.
Eligibility Requirements
Arts IN applicants must:
Be an AAP Junior, Senior, and/or Transfer student
Have an art practice, passion for the arts, and/or be engaged in social justice, critical praxis, and community-based arts
Have the motivation to engage in independent research
Be interested in learning about graduate or professional school programs
Program Timeline
FALL QUARTER
Meet with Arts IN Coordinator to learn more
Apply
WINTER QUARTER
Enroll in the weekly Arts IN Program 2-unit Honors Collegium Seminar (HC 193A)
Attend weekly one-on-one meetings with the Arts IN Coordinator
Learn the nuts & bolts of graduate or professional school application
Procure a faculty mentor
Develop a research proposal
SPRING QUARTER
Enroll in a SRP 99 or Departmental 199 with faculty mentor
Attend regular cohort meetings with the Arts IN Scholars
Attend weekly one-on-one meetings with the Arts IN Coordinator
Create a portfolio of relevant documents for graduate applications
Present research project at the annual UCLA Undergraduate Research Week
How Do I Apply to the Arts IN Program?
Part I
Part II
Essay submission (Upload and hard copy)
Research Statement (1,000-words max)
Personal Statement (1,000-word max)
Required documents (Upload and hard copy)
CV or Resume
Unofficial Transcripts
Electronic Financial Aid Notification (e-FAN)
Contact Us
To learn more about the Arts In program and the application process,  email aapmentoring@college.ucla.edu.