A Message from Dr. Charles J. Alexander
Dear AAP Community,
Warmest congratulations on embarking on this exciting journey to UCLA and joining the Academic Advancement Program (AAP)!
For over five decades, AAP has been at the heart of academic excellence at UCLA, and we are thrilled to have you become a part of our vibrant community. AAP has a threefold mission: first, to ensure the academic success, retention, and graduation of all AAP students; second, to inform and prepare students for graduate and professional schools; and third, to develop the academic, scientific, political, economic, and community leadership necessary to lead and transform our society.
AAP has a long and rich history of working with students like yourself. More than a mere collection of academic support services, AAP stands as a welcoming academic home for over 5,000 students from diverse backgrounds, including those from low-income, first-generation, and historically underrepresented groups. We firmly believe that every AAP student has earned their rightful place at UCLA, demonstrating exceptional academic potential. Our commitment is to guide you on your path to academic and personal growth throughout your undergraduate journey.
We eagerly anticipate the moment we can welcome you in person and witness your achievements firsthand.
Welcome to UCLA, and welcome to AAP!
Go Bruins!
Dr. Charles J. Alexander
Associate Vice Provost for Student Diversity
Director, Academic Advancement Program
NEWS
Loss of a dear colleague, Laura Sencion Mendoza
Dear AAP Family,
It is with a broken heart that we share the devastating news of the passing of Laura Sencion-Mendoza. In our hearts, we carry the weight of this profound loss as we remember her extraordinary qualities as a cherished colleague, dedicated mother, devoted friend, and a courageous individual. Her absence leaves an immense void within her family and the AAP community.
Laura Sencion-Mendoza's memory resonates with indescribable emotions, for she the lives of her students and the entire AAP staff. Her absence will be deeply felt, as her warmth and care were a beacon of light to those around her. Her presence will be irreplaceable, and her absence will be deeply mourned.
AAP will host a campus memorial to honor her legacy on Friday, October 6, 2023, from 4:00-6:00pm in Campbell Hall.
Please share this message with those who currently and./or have worked with Laura.
Sincerely,
Vivian Salazar & Charles Alexander, Ph.D.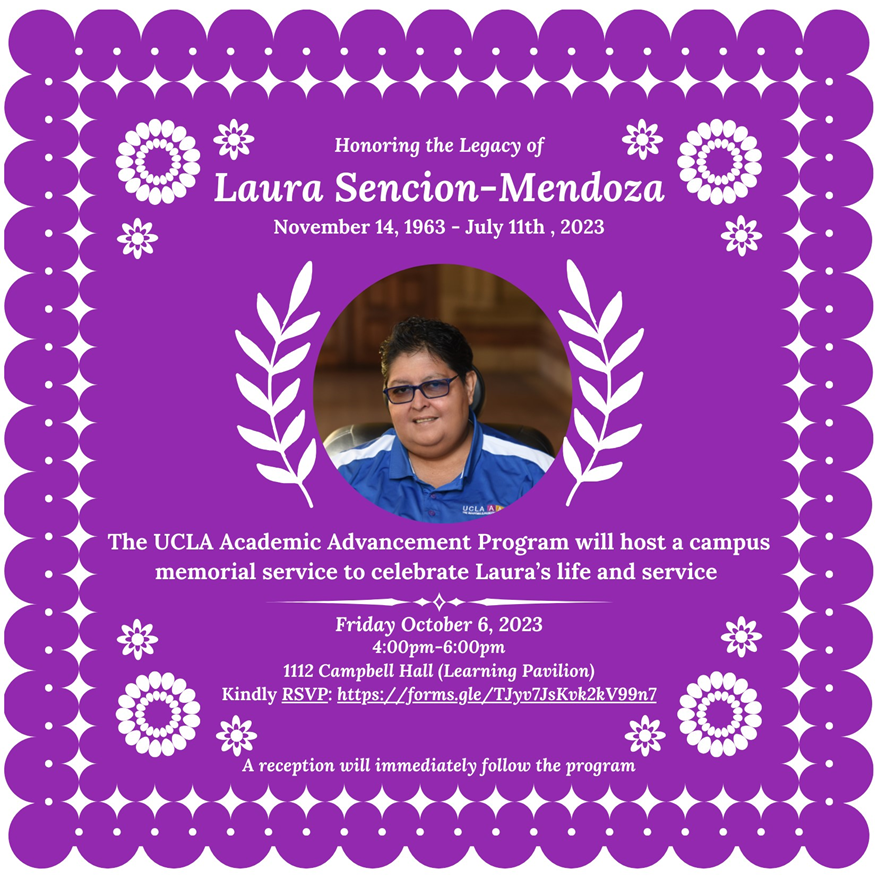 UPCOMING EVENTS