The New Student Programs office oversees and implements a variety of academic and diversity initiatives within AAP. New Student Programs most highly visible programs are AAP Presentations during Bruin Day, Transfer Scholars' Day and AAP Summer Programs. During AAP and Bruin Day and Transfer Scholars' Day, newly admitted students are invited to learn more about UCLA and the academic resources available through AAP. More importantly, students learn about the AAP's Freshmen and Transfer Summer Programs available to acclimate newly admitted students to the academic rigors of UCLA.
Freshmen and Transfer Summer Programs
AAP offers two academic summer programs – The Freshman Summer Program and the Transfer Summer Program- which prepare students to succeed by exposing them to the rigor and demands of academic life and to undergraduate programs, services, and learning resources.
Students enroll in  three University courses that meet UCLA requirements for graduation, and they receive personal attention, in either small groups or individual sessions, from teaching assistants and tutors. They are encouraged to live on campus and to participate in cultural and social events, interact with students of diverse backgrounds, build a network of friends, and broaden their life experiences and world outlook. Click on the link above to learn more about F/TSP.
To mark AAP's 48th anniversary, we will launch an effort to raise $2 million to provide scholarships for students in the AAP Freshman and Transfer Summer Program (F-TSP). We are launching this campaign and the new scholarship, which will be called the AAP Alumni Summer Program Scholarship. The scholarship will commemorate all alumni who attended AAP's summer programs in the past, many of whom have fond memories of their first summer on campus and have reported that FSP or TSP was a transformative experience that made their transition to UCLA so successful.
As the costs of the Summer Program increases, our incoming AAP students need financial assistance to attend the program. Please also consider giving back to help others participate and gain the benefits you enjoyed.
To make a gift to support AAP students, please visit  the UCLA Giving  website and select the Academic Advancement Program.
$40 – AAP Alumni Individual Contribution – We seek $40 from 400 AAP alumni each year to provide 8 summer scholarships; help us make this goal.
$400 – AAP Alumni Peers – Each group of 10 donations will provide 2 summer scholarships.
$4000 – Named Scholarship – AAP alumni who contribute at this level will be eligible for 2 scholarships in their name and will enjoy benefits of Chancellor's Associates membership and an invitation to the annual AAP Scholarship Awards Reception.
$40,000 – Named Scholarship – AAP alumni who contribute at this level will be eligible for 20 scholarships in their name and enjoy benefits of Gold Level Chancellor's Associates and an invitation to the annual AAP Scholarship Awards Reception.
BECOME AN AAP F/TSP Peer Learning Facilitator
POSITION DESCRIPTION:
What is a PLF?
The Peer Learning Facilitators (PLFs) are mainly upper-division undergraduates who successfully completed courses in the Math, Sciences, Humanities, and Social Sciences disciplines. They seek to help AAP Students assess and develop the reading, writing, quantitative reasoning, and analytical and critical thinking skills necessary for success at the university. PLFs provide students with the intellectual challenge, encouragement, and personal support they need to recognize their own authority as thinkers and learners. PLFs also act as mediators and mentors, helping AAP students deal with the academic expectations at UCLA.
What do they do?
For the most part, the intellectual mentors facilitate sessions in small groups. This approach fosters discussion and allows students to listen to, grapple with, and articulate new and different perspectives. It helps students develop the tools necessary for scholarly inquiry and enables them to work collaboratively, to help one another, and to see that they can rely on classmates as well as on teaching assistants and PLFs in the learning process. Sessions allow the PLF to get a close-up look at what skills, experiences, and background knowledge the student brings to the course. In addition, sessions allow PLFs and students an opportunity to get to know and trust one another.
Position Logistics
• If selected for an interview, interviews will be held by appointment between Monday, May 6, and Wednesday, May 30, 2020.
• F/TSP Salary is $5,454 (approx) for the program appointment August 3rd, 2020 to September 11th, 2020.
• Training will take place from July 27th, 2020 – July 31st, 2020. The program expects your commitment to attend all trainings, classes, and meetings. NOTE: If selected as a PLF or Alternate, training hours will be compensated at the appropriate hourly rate according to student status: ($16.44 Undergraduate, $20.45 Graduate, $19.91 Non-Student)
• F/TSP may be offered remotely for summer 2020. In this case, Zoom will be the platform for all work-related training and meetings.
• This position is covered by the UC-UAW Academic Student Employee bargaining agreement.
Eligibility Criteria
• Strong academic background in the subject of interest
• Completion of at least one full academic year (undergraduate or graduate) at UCLA by June 2020
• Excellent interpersonal, communication and writing skills
• Good academic standing (minimum overall GPA: 3.0)
• Past facilitating/tutoring/teaching experience and/or experience with AAP, FSP, TSP, or EOP programs preferred
• Must be able to attend training the week of July 27, 2020 – July 31st, 2020.
• Other on-campus employment is not allowed above 20% time (8 hours/week) during the training appointment dates of July 27, 2020 – July 31st, 2020, as the F/TSP PLF training position has an appointment equivalent workload of 80% time.
• Employees may only be appointed for all campus positions for a total of 100% time (40 hours/week). Other on-campus employment is not allowed during the program appointment dates of August 3, 2020 – September 11, 2020, as the F/TSP PLF position, has an appointment equivalent workload of 100% time (full-time).
• If you have on-campus employment restrictions due to receipt of fellowships, scholarships, or any funding, please disclose those details if you are selected for an interview.
Please Note: Should the FTSP be a remote program this summer, PLFs will need access to a WiFi network and an electronic device (computer, laptop, or tablet) to conduct the work outlined above.
F/TSP 2020 – Peer Learning Facilitator Application (See Courses Below)

Please be log into your g.ucla.edu email and then CLICK HERE TO APPLY.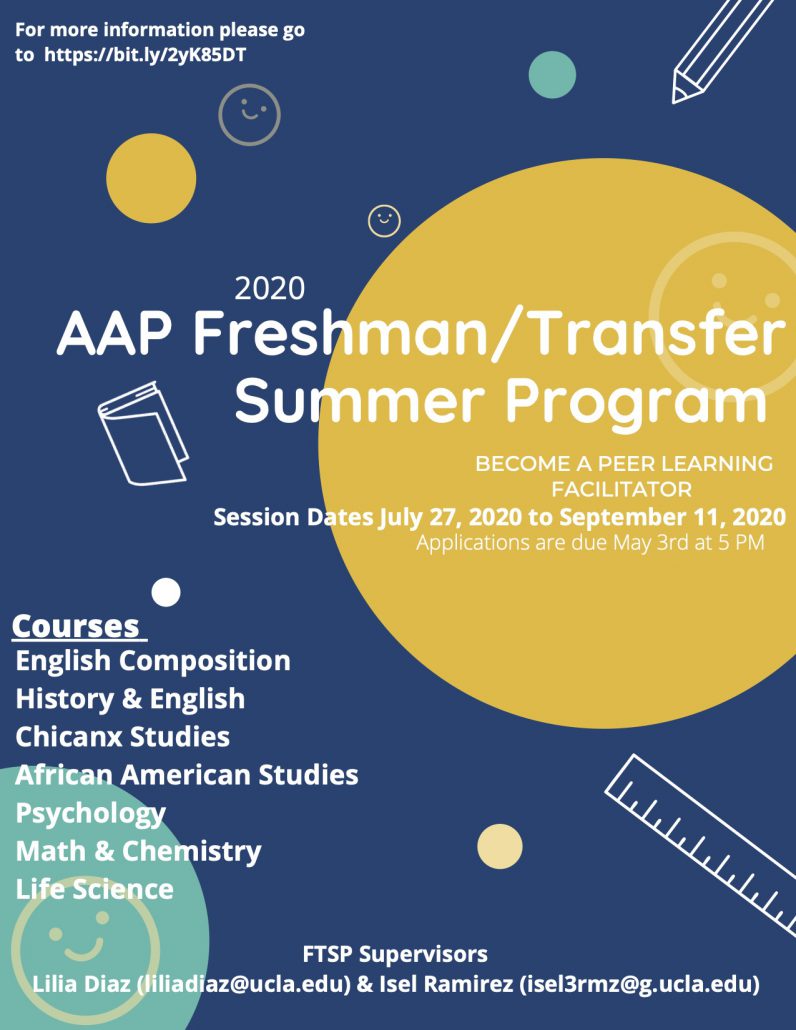 COURSES INCLUDE:
Freshman Summer Program (FSP):
English Composition 1: Introduction to University Discourse
English Composition 2: Approaches To University Writing
English Composition 3: English Composition, Rhetoric, And Language
English Composition 100W: Interdisciplinary Academic Writing
Honors Collegium 26: Representations of Medicine in Literature, Art, and Film
African American Studies 6: Trends in Black Intellectual Thought
Math 1/98XB: Pre-Calculus/Excel
Chemistry 96/88: Special Course In Chemistry – Chemical Principles
Life Science 30A: Mathematics for Life Scientists
Transfer Summer Program (TSP):
English Composition 100W: Interdisciplinary Academic Writing
English Lit. 119: Literary Cities: Los Angeles Phase
Chicano & Chicana Studies 191/193: Exploring Ethnic Los Angeles: Race and Place
Psychology 175/189: Community Psychology
History 150B/Afro-Am Studies 158B: Introduction To Afro-American History
Chemistry 153A: Biochemistry: Introduction to Structure, Enzymes, and Metabolism
Honors Collegium 101A: Student Research Forum