Summer 2022 Course Offerings
Summer Session A (6.18.22)
Chemistry 14C/BL
Economics 103
Life Sciences 7B/C
Life Sciences 30A
Math 32A
Physics 5B
Sociology 101
Stats 10
* The availability of the above courses is subject to change each session.
Summer Session C
Chem 14B/14BL
Chem 30B
Econ 2/103
LS 7A/B/C
LS30B
Physics 5B
PSYCH 100A/B
Stats 10/13
Sociology 101/102
* The availability of the above courses is subject to change each session
.
Academic Year Course Offerings
Math and Sciences Lab
Astronomy 3, 5
Atmospheric and Oceanic Sciences 1
Chemistry 14 A/B/C/D, 14BL/CL, 17, 20A/B/L, 30A/B/C, 153A
EPSci 15
Life Sciences 7 A/B/C, 15, 30A/B, 40, 107
Mathematics 1, 3A/B/C, 31A/B, 32A/B, 33A/B, 115A, 131A
PIC 10A/B
Phy Sci 5
Physics 1A/B/C, 5A/B/C, 10
Statistics 10, 100A
Humanities and Social Sciences Lab
AN N EA 10W
Anthropology  1, 2, 3, 4
Chicana/o Studies 10A/B, 101
Classics 10, 20, 30
Comparative Literature 2AW/BW/CW/DW, 4CW/DW
Economics 1, 2, 11, 41, 101, 102, 103
English 10A/B/C
English Comp A, 1A, 1B, 2, 3, 3D, 4W, 5W, 100W
Gender 10
History  1A/B/C, 8A/B/C
Linguistics 1, 20, 120A/B
Management 1A/B
Philosophy 6, 7, 8, 22W, 31
Political Science 6, 10, 20, 30, 40, 50
Psychology 10, 15, 100A/B, 110, 115, 120A, 135, 150
Public Affairs 40, 60
Religion M60W
Scandinavian 40W, 50W, 60W
Sociology 1, 20, 101, 102
Spanish  25, 27, 42, 44, 119, 120
* The availability of the above courses is subject to change each quarter.
AAP PEER LEARNING ENROLLMENT PASSES
Effective Fall 2017, Peer Learning enrollment is divided into two assigned passes that give all students an opportunity to enroll in peer learning sessions, before an open pass for everyone.  Please check MyUCLA for your individually assigned enrollment passes one week before the first week of each term.
Important: Students not enrolled in classes will be dropped from peer learning sessions.
Enrollment Queue
Beginning Wednesday of week 1 through the following Sunday, you may experience a wait time before accessing the Peer Learning system whenever the system is experiencing a high volume of Peer Learning transactions.  Your individual wait time will be displayed on the screen.  You may logout of MyUCLA during your wait time and your position in the queue will be preserved.  However, it is critical that you return to the Peer Learning page and are present before your wait time expires, otherwise, you will be placed at the end of the queue and assigned a new wait time.
In order to allow sufficient time to wait in the queue and to complete the enrollment process, it is highly recommended that you login to MyUCLA and visit the Pear Learning page as close to the beginning of each of your assigned pass times as possible.  You must complete your enrollment transactions before the end of your pass time.
Help keep wait times short for everyone! Once you have completed your Peer Learning Enrollment, please refrain from returning to the MyUCLA Peer Learning Page until your next pass begins.
First Peer Learning Enrollment Pass
During first pass, students may enroll in peer learning for one class. This gives all students a better chance to obtain at least some Peer Learning. Students who do not enroll in a session during their first pass must wait until their second pass to enroll.
Second Peer Learning Enrollment Pass
During second pass, students may enroll in peer learning for up to two classes
Open Peer Learning Enrollment Pass
Once the two initial assigned passes are completed, all AAP students will have an opportunity to add or drop sessions through the end of the third week.
Students are not allowed to enroll before their specified enrollment pass time(s).  Enrollment pass times are assigned based on your year of entry to UCLA.   Appointment times are randomly assigned within pass periods that are prioritized by group in the following order:
New students
Second year students
Third year students
Fourth year (or older) students
How to SIGN UP for AAP Peer Learning Sessions
Access the MyUCLA Peer Learning feature by either of the following ways:
Click the Peer Learning link: http://my.ucla.edu/directLink.aspx?featureID=152&u=1

Or

Log on to MyUCLA and click the "ACADEMICS" tab.  In the "Advising and Academic Services" section, click "Peer Learning."

Read the terms of agreement. If you agree, check the box for each section, then click "I Agree."
Select the appropriate term from the menu in the upper-right corner (e.g. Fall 2017).
Select AAP from the Unit menu in the top-left corner, if not already selected.
In the PEER LEARNING menu, click FIND A SESSION.
Click on the subject area you want to enroll in (e.g. Physics), then select a course.
If no session time matches your schedule, click the "request an alternate time" link.
If the course you would like is not listed, we encourage you to request the course using the WISH LIST function.
If you have any questions about how to sign up, please email us at aappeerlearning@college.ucla.edu or give us a call at 310.206.7771.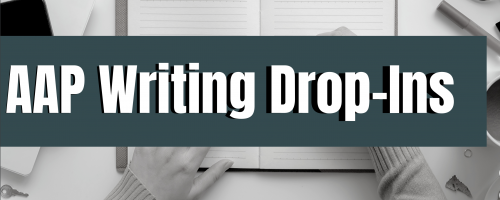 AAP Peer Learning will now offer one-on-one writing drop-in sessions designed to help  AAP students strengthen their essays, papers, resumes, cover letters, scholarship essays, and more. Sessions are 30 minutes each and will be offered virtually via Zoom. Sessions begin Week 4 and will continue until Week 10 (Fall, Winter, and Spring Quarters). Note: Limit 2 sessions/week for each AAP student. First come, first served basis.
_______
New! We are also in the Transfer Student Center, Kerckhoff 128 for Drop-in Sessions.
Spring 2022: TBA
_______
Directions to sign-up via below!
Click the link to sign-up for your drop-in session via MyUCLA!
Go to MyUCLA Appointments
Select a date to search for availability
When availability is found, select the PLF/appointment time you would like
Select one or more subjects for the appointment
Add a description about what you would like to discuss during the appointment, if needed
Enter an alternate phone number, if available
Click the "Create" button
After the appointment is scheduled, you can upload a file, if needed, by clicking on the file icon on the right side of the appointment information. The file icon/upload link will also be included in the confirmation and reminder emails that will be sent to you.
Questions? Contact aappeerlearning@college.ucla.edu
2022 AAP F/TSP PLF Applications are NOW OPEN
Position Description
What is a PLF?  
The Peer Learning Facilitators (PLFs) are mainly upper-division undergraduates who successfully completed courses in the Math, Sciences, Humanities, and Social Sciences disciplines. They seek to help AAP Students assess and develop the reading, writing, interdisciplinary reasoning, and analytical and critical thinking skills necessary for success at the university. PLFs provide students with the intellectual challenge, encouragement, and personal support they need to recognize their own authority as thinkers and learners. PLFs also act as mediators and mentors, helping AAP students deal with the academic expectations at UCLA.
What do they do?
For the most part, the intellectual mentors facilitate sessions in small groups. This approach fosters discussion and allows students to listen to, grapple with, and articulate new and different perspectives. It helps students develop the tools necessary for scholarly inquiry and enables them to work collaboratively, to help one another, and to see that they can rely on classmates as well as on teaching assistants and PLFs in the learning process. Sessions allow the PLF to get a close-up look at what skills, experiences, and background knowledge the student brings to the course. In addition, sessions allow PLFs and students an opportunity to get to know and trust one another.
Position Logistics
We will send out interviews to applicants who stand out on a rolling basis. Interviews will be held through scheduled appointments.
F/TSP Salary is $5,786 (approx.) for the program appointment August 1st, 2022, to September 9th, 2022. Please note that the entire six-week program with a workload not to exceed 240 hours and will not be paid on an hourly basis.
Training will take place from July 25th, 2022 – July 29th, 2022. The program expects your commitment to attend all trainings, classes, and meetings. NOTE: If selected as a PLF or Alternate, training hours will be compensated at the appropriate hourly rate according to student status: ($17.45 Undergraduate, $21.70 Graduate, $21.13 Non-Student)
F/TSP will be offered in person for Summer 2022. In this case, in person classes will be the platform for all work-related training and meetings.
Eligibility Criteria
Strong academic background in the subject of interest
Completion of at least one full academic year (undergraduate or graduate) at UCLA by June 2022
Excellent interpersonal, communication and writing skills
Good academic standing (minimum overall GPA: 3.0)
Past facilitating/tutoring/teaching experience and/or experience with AAP, FSP, TSP, EOPS or EOP programs preferred
Must be able to attend training the week of July 25th, 2022 – July 29th, 2022.
Other on-campus employment is not allowed above 20% time (8 hours/week) during the training appointment dates of July 25th, 2022 – July 29th, 2022, as the F/TSP PLF training position has an appointment equivalent workload of 80% time.
Employees may only be appointed for all campus positions for a total of 100% time (40 hours/week). Other on-campus employment is not allowed during the program appointment dates of August 1st, 2022 – September 9th, 2022, as the F/TSP PLF position, has an appointment equivalent workload of 100% time (full-time).
If you have on-campus employment restrictions due to receipt of fellowships, scholarships, or any funding, please disclose those details if you are selected for an interview.
Application Components
Basic Applicant Information: https://forms.gle/tEmDp8zr9JN8zfwG9
Supplemental Materials to be uploaded
– Cover Letter (1-page maximum)
– Resume
-UCLA Unofficial Transcript
APPLICATIONS DUE– THE PRIORITY DEADLINE IS SUNDAY, MAY 29TH 2022 AT 11:59PM.  THE FINAL DEADLINE IS SUNDAY JUNE 5TH  2022 AT 11:59PM. APPLICATIONS WILL BE REVIEWED ON A ROLLING BASIS.
If you have any questions please reach out to the FTSP PLF Supervisors Maria Denisa Tudorache (maria.denisa0131@gmail.com) and Katheryn Quijada Polanco (katherynqp@gmail.com)
Courses Include
Freshman Summer Program (FSP):
African American Studies 6: Trends in Black Intellectual Thought
Chemistry 96/88: Special Course In Chemistry – Chemical Principles
English Composition 1: Introduction to University Discourse
English Composition 2: Approaches To University Writing
English Composition 3: English Composition, Rhetoric, And Language
English Composition 100W: Interdisciplinary Academic Writing
Honors Collegium 26: Representations of Medicine in Literature, Art, and Film
Life Science 30A: Mathematics for Life Scientists
Math 1/98XB: Pre-Calculus/Excel
Transfer Summer Program (TSP):
Chemistry 153A: Biochemistry: Introduction to Structure, Enzymes, and Metabolism
Chicana/o and Central American Studies 191/193: Exploring Ethnic Los Angeles: Race and Place
English Composition 100W: Interdisciplinary Academic Writing
English Lit. 119: Literary Cities: Los Angeles Phase
History 150B/Afro-Am Studies 158B: Introduction To Afro-American History
Honors Collegium 101A: Student Research Forum
Psychology 175/189: Community Psychology
Many students worry about using Peer Learning, thinking that it's remedial. Perhaps you are one. Here are some reasons students give for not using AAP Peer Learning workshops and our responses to them.
Reason #1: I don't need Peer Learning sessions because I'm not in academic difficulty.
Our program is broader than trouble-shooting or remedy-seeking. AAP Peer Learning sessions are designed to enhance your learning–even if you are an "A" student. Learning is enriched if it takes place in a social context where you can test your understanding in dialogue with others. Everyone can benefit from seeing how others view things, hearing responses to one's own ideas and the ideas of others, and receiving encouragement from one's peers. Peer Learning sessions give you a place to assume the role of instructor as well as learner; and it introduces you to a network of other students. Of course, if you are having trouble understanding class material, Peer Learning sessions are a fine place to seek assistance. We know that people sometimes feel stigmatized when they ask for help, but it's important to recognize that you don't need to handle everything alone. Working with a Peer Learning Facilitator does not detract from whatever you accomplish.
Reason #2: I don't want to depend on others.
Peer Learning  sessions are designed not only to strengthen your academic skills, but to cultivate your confidence and self-reliance. Peer Learning Facilitators will help you articulate your ideas, not impose their own. They will help you view your work critically and guide you to look for options. Peer Learning  sessions are student-centered. We encourage you and the PLF to discuss expectations, to examine the Peer Learning session relationship, and to work on that relationship as you work together on academic material.
Reason #3: I don't have time for Peer Learning sessions.
Time is at a premium at the university. The quarter system is demanding. Our sessions will help you get started quicker and become more organized and focused, all of which should generate enthusiasm in your work.
Reason #4: I had a bad experience with Peer Learning sessions.
Perhaps you have had a bad experience with Peer Learning sessions. That does happen. Things can go wrong in human relationships. Maybe it was a personality conflict, or perhaps your expectations were different from the PLF's. Whatever the reason, we urge you to try Peer Learning sessions again. Bad experiences are the rare exception in our program.
Reason #5:  If I want Peer Learning sessions, I can use my friends.
We think it's good for you to get together with other students and encourage you to do just that whenever you can. But we think you'll find it useful to develop a relationship centered on our Peer Learning sessions. For one thing, friends may not always be available; or such sessions may have more of a drop-in quality to them than a sustained one. An ongoing Peer Learning session relationship, with a trained PLF, guided by AAP's educational philosophy, offers you an avenue to academic excellence. In closing, though we urge you to use AAP Peer Learning sessions for a number of reasons, one very important reason remains: this program belongs to you–the students. It was formed by students like yourself, and it has been passed on to you. 90% of the Peer Learning Facilitators are AAP students like yourself. If AAP Peer Learning sessions are to continue to meet your needs, it is extremely important that you help shape its direction by your active participation.
Peer Learning Unit Administrative Team
Ifeoma Amah, Ph.D.
Director
1101B Campbell Hall
(310) 206-2659
Emmanuel Owaka, M.S.
Assistant Director and Lab Coordinator of the Math and Sciences Lab
1201B Campbell Hall
(310) 206-9618
Bianca Muonekwu 
Lab Coordinator of  the Humanities and Social Sciences Lab
1112A Campbell Hall
(310) 794-5093
Axel Hernandez
Assistant to the Director/Office Manager
1214 Campbell Hall
(310) 206-7771
Humanities and Social Sciences PLF Supervisors
Economics & Management: Rebecca De La O, aap.econmngt@gmail.com
English Composition: Diana Castro, aapenglishcomposition@gmail.com
Humanities: Katheryn Quijada-Polanco
Psychology: Denisa Tudorache: aap.psychologysupervisors@gmail.com
Social Sciences: Fernando Lupian, aap.socialsciences@gmail.com
Math and Sciences PLF Supervisors
Chemistry: aap.chemistry.supervisors@gmail.com
Earth Sciences and Computer Programming: aap.escp@gmail.com
Life Sciences:  aap.lifesciences@gmail.com
Mathematics & Statistics: aapmathsupervisor@gmail.com
Physics: aap.physicsdupervisors@gmail.com