ACADEMIC COUNSELORS AND ADVISORS AT UCLA
Academic counseling and advising at UCLA is a partnership between students and UCLA counseling and advising staff members. These counselors and advisors provide different types of support that empower students to make informed decisions about their academic journey.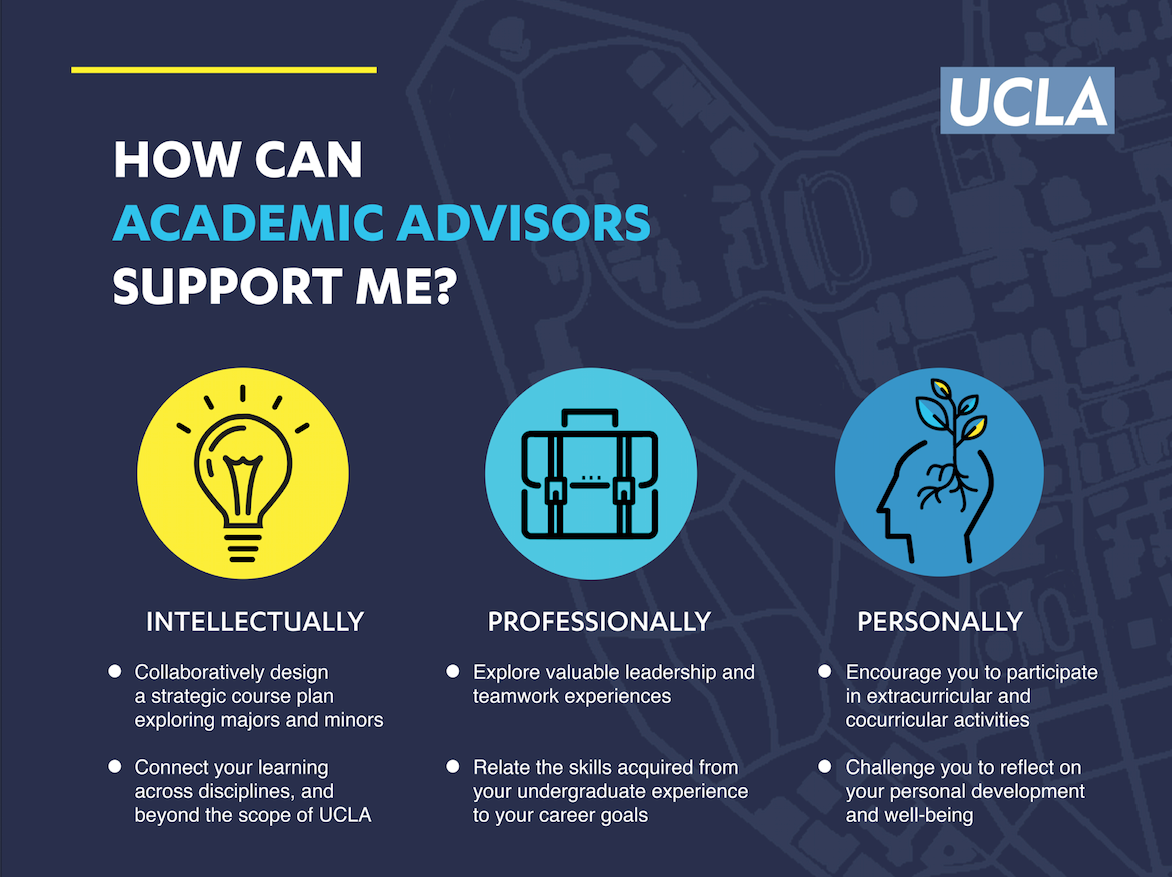 WHO ARE MY ACADEMIC COUNSELORS AND ADVISORS?
College counselors: Every student in the College of Letters & Sciences is assigned to one of four College counseling units:
Honors Programs 

AAP students may belong to both AAP and Honors Programs

College Academic Counseling in Athletics
You can identify your College counseling unit by checking the upper right-hand corner of your Degree Audit Report.
College counselors can help students:
Understand their graduation requirements, including: University, College, General Education (GE), Residency and unit requirements
Navigate petition processes
Determine their academic standing and, for students in academic difficulty, identify ways in which they can resolve their status
Resume their studies after an extended period of time away from UCLA, whether by choice, or because of dismissal or discontinuation
Departmental counselors and advisors: Each major and minor at UCLA has designated staff who help students navigate their major and minor requirements. These counselors and advisors are students' best resource for program-specific support, including:
Application processes for the pre-major/major/minor
Substitutions and exemptions on preparation for the major or major requirements
Enrollment assistance for courses in the major/minor, including contract courses
Information on program-specific opportunities, such as: research, internships, Departmental Honors, Department Scholars, etc.
Departmental Commencement ceremonies
For a specific major or minor counselor or advisor's contact information, please consult the Departmental Counselor Directory.
AAP Peer Counselors (PCs): AAP Peer Counselors are trained to support their fellow AAP students using a student-centered approach. PCs are available for 30-minute appointments throughout the academic year, during which students can discuss:
Program planning, including both enrollment for an upcoming term and four-year program planning
Expected Cumulative Progress (1st time shortages only)
Major Exploration
Campus resources (e.g. Graduate Mentorship and Research Programs, Career Center, Community Programs Office, Undocumented Student Program, Bruin Resource Center, LGBT Center)
Pre-Health Requirements
College Academic Mentors (CAMs): College Academic Mentors are graduate students from a wide variety of academic departments who advise undergraduates in the following areas:
GE Program planning (freshmen & sophomores)
Choosing a major (freshmen & sophomores)
Preparing for Graduate/Professional School (juniors & seniors)
PREPARING FOR YOUR COUNSELING APPOINTMENT

WAYS FOR YOU TO DO YOUR PART:
PROACTIVE – Please prepare talking points in advance of your appointment. Determine which questions you should prioritize during your meeting with your counselor or advisor.
ACCOUNTABLE – Make sure to bring a pen and paper, laptop, tablet, or other way to take notes during your appointment.
RESPECTFUL – As a courtesy to your counselors and advisors, please be on time to your appointment. If you are running late, contact your counselor or advisor as soon as possible. If you will be more than 10 minutes late to your appointment, your counselor or advisor may ask you to reschedule your appointment.
TRANSPARENT– Share with your counselors and advisors any information that you are comfortable disclosing and that may help them better understand your questions, so that they can help you identify as many relevant options as possible.